USES
Caravan Parks and Holiday Parks
Rent A Bathroom
Caravan Parks and Holiday Parks
Extra peak season amenities, scheduled maintenance, extra guest services.
Caravan Parks and Holiday Parks thrive on customer service. So how can you differentiate your Park from the next one..?? Rent A Bathroom hire luxury mobile bathrooms, portable toilets and portable showers. Now you can offer premium portable amenities right next to or on caravan and camping sites.
Do you have seasonal peaks or large groups staying over and the current amenities are not sufficient for the amount of people traffic? Ask Rent A Bathroom how we can help you supplement your amenities with luxury mobile bathrooms, portable toilets and portable showers.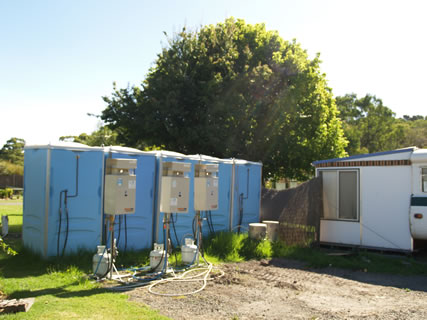 If you have regular scheduled maintenance or require replacement during unscheduled amenities maintenance, call Rent A Bathroom for a range of hire options to suit your needs.
---
Key Features
Sturdy, durable, hygienic, easy to clean and maintain hire options available
Flexible and versatile range available
Versatile site placement
Quick to deliver, set-up and install to minimise disruptions and holiday maker inconvenience
Various payment options available
---
Pump Out Servicing for Portable Chemical Toilets and Waste Holding Tanks
Portable chemical toilets are fully self contained and do not need to be connected to external services.
Portable waste holding tanks are emptied by Rent A Bathroom at the end of your hire.
Arrangements can be made to service portable toilets and waste holding tanks during longer term hires, large and busy functions.
---
Portable Waste Holding Tanks
Ideal when sewerage or septic services are too far away, on rural and remote sites, for environmentally sensitive sites:
Aesthetic appealing, Black 1000 litre portable waste tanks
Can be daisy chained, connecting more than one together for larger events or longer duration hires
Portable holding tanks will require a pump out service from Rent A Bathroom or your local operator
---
Transport and Delivery
Rent A Bathroom deliver our mobile bathrooms, portable bathrooms, portable ensuites, portable toilets and portable showers.
If needed, Rent A Bathroom will lower and position the units using our crane.
However, you can lower and position Rent A Bathroom units from our truck with your forklift (insurance requirements / contracts need to be signed accepting responsibility for any damage).
Rent A Bathroom delivery drivers have the final decision on positioning to ensure proper operation and safety.
Rent A Bathroom will pick up and deliver the units unless previous arrangements have been made (delivery charges apply).
Contact Rent A Bathroom
0409 783 399
info@rentabathroom.com.au
Rent A Bathroom preferred payment options: Direct Deposit and Credit Card (2% surcharge on all credit cards)
ENQUIRE ONLINE
Have an enquiry about one of our services? Send us your enquiries with our easy to use online form and we will get back in touch with you regarding your requirements.
Our Clients
"Very helpful and easy to deal with, it arrived on time. The porta-loo was spotless, and they took it away when they said they would. No fuss at all. I couldn't ask for much more than that. Thanks guys."
Ian Whitehead