PRODUCTS
MOBILE BATHROOM HIRE
Rent A Bathroom
Mobile Bathroom Hire
The Rent A Bathroom mobile bathrooms are designed to fit in most standard sized driveways and access ways. If you have smaller or restricted access but still need a mobile bathroom, you may prefer our Portable Showers or Portable Toilet Shower Combo, specifically designed for difficult and restricted access locations or your long term hire needs.
Standard interior appointments include mirror, fluorescent lighting, exhaust fan, 240v power point, shower curtain, towel rails, toilet roll holder, clothes rack and coat hooks.
The Rent A Bathroom Luxury Mobile Bathroom is made of durable, mould resistant fibreglass, so it is easy to clean and hygienic. An interior fan and electric panel heater reduce bacteria and moisture build up while everything is built onto a galvanised steel chassis.
Key Features
Full size shower
Standard porcelain flushing toilet
Semi recessed porcelain vanity basin
Chrome plated lever handle tapware
50L Electric hot water service
Onboard Heater
Transport and Delivery
Luxury Mobile Bathrooms are delivered by tray truck or towed by a standard vehicle.
Rent A Bathroom pick up and deliver unless prior arrangements have been made.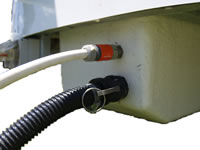 Contact Rent A Bathroom 0409 783 399 info@rentabathroom.com.au Rent A Bathroom preferred payment options: Direct Deposit and Credit Card (2% surcharge on all credit cards)
Servicing all Melbourne suburbs, Mornington Peninsula, South Gippsland and Yarra Valley
ENQUIRE ONLINE
Have an enquiry about one of our services? Send us your enquiries with our easy to use online form and we will get back in touch with you regarding your requirements.
Portable Waste Holding Tanks
Ideal when sewerage or septic services are too far away, on rural and remote sites, for environmentally sensitive sites:
Aesthetic appealing, Black 1000 litre portable waste tanks
Can be daisy chained, connecting more than one together for larger events or longer duration hires
Portable holding tanks will require a pump out service from Rent A Bathroom or your local operator
Our Clients
"Very helpful and easy to deal with, it arrived on time. The porta-loo was spotless, and they took it away when they said they would. No fuss at all. I couldn't ask for much more than that. Thanks guys."
Ian Whitehead