PRODUCTS
PORTABLE SHOWERS
Rent A Bathroom
PORTABLE SHOWERS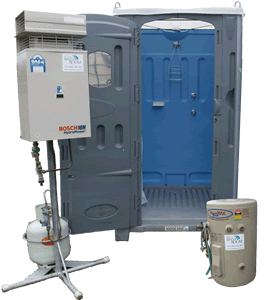 Rent A Bathroom Portable Showers are made from high density twin skin, insulated polyethylene walls. Lots of elbow room means you won't feel cramped and with a translucent roof, ample light and security are provided during the day.
Easy to clean interiors, several hot water options to suit your needs and locations make these showers ideal when you want or need a portable shower to be just like home.
Ideal uses include
Building sites
Home and Building Renovations
Extra Guests
Key Features
Full Size: (1200 x 1200) base and 2300 height.
Translucent ceiling for ample light and privacy.
Insulated 'twin skin' construction.
Ideal for Home Renovations, Building, Construction sites and extra guests.
Easy to clean and maintain.
Available with either Gas Instantaneous or 50 litre Electric Hot Water Service options.
Easy to Transport by Fork Lift or Crane Truck.
Simple to connect between hot water service and cubicle using flexible hoses and fittings.
Transport and Delivery
Portable Showers are delivered by truck and lowered by us using our crane. We then trolley them into position.
The design of the Rent A Bathroom Portable Showers allows easy and convenient positioning to cater for a wide variety of functions, venues or uses.
Contact Rent A Bathroom
0409 783 399
info@rentabathroom.com.au
Rent A Bathroom preferred payment options: Direct Deposit and Credit Card (2% surcharge on all credit cards)
Servicing all Melbourne suburbs, Mornington Peninsula, South Gippsland and Yarra Valley
ENQUIRE ONLINE
Have an enquiry about one of our services? Send us your enquiries with our easy to use online form and we will get back in touch with you regarding your requirements.
Our Clients
"Very helpful and easy to deal with, it arrived on time. The porta-loo was spotless, and they took it away when they said they would. No fuss at all. I couldn't ask for much more than that. Thanks guys."
Ian Whitehead