EMERGENCY
NATURAL DISASTERS
Rent A Bathroom
Natural Disasters. Fires, Floods, Tremors, Quakes, Storms, other…
Rent A Bathroom. Helping people and communities get back on their feet.
Rent A Bathroom was called in to assist with the Black Saturday Fires where many homes were lost. Rent A bathroom mobile bathrooms, portable toilets and portable showers allowed people to stay on their properties, take care of live stock and minimise other losses. Portable holding tanks tanks were also provided where services still required significant repair, rebuilding or reconstruction.
When the long drought in Victoria finally broke causing the now infamous Victorian Floods, many homes were damaged and sewerage and septic systems compromised. The threat of water bourne diseases were an increased risk during the subsequent clean up, recovery and rebuilding phases afterwards.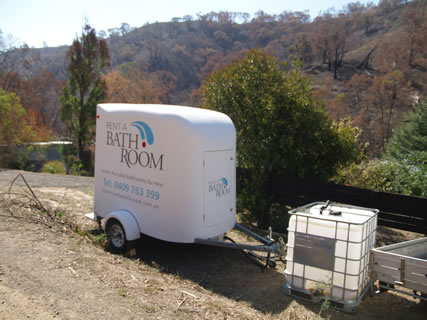 Rent A Bathroom mobile bathrooms, portable bathrooms, portable toilets, portable showers, portable hot water services and portable holding tanks would be ideal during this period. Portable chemical toilets are fully self contained, minimising impacts on environment and services already compromised. Portable holding tanks for water and waste could guarantee water quality and waste containment.
Rent A bathroom hire options are ideal for Emergency Response situations and Insurance Work. Download the 1300ENSUITES Insurance brochure to see how we can help you nation wide.
DOWNLOAD
---
Key Features
Clean, hygienic, sturdy construction
Quick and easy to set-up and install in most sites and locations
A range of installation options and accessories for sourcing the right option for your requirements
Give peace of mind to those affected by the disaster
---
Pump Out Servicing for Portable Chemical Toilets and Waste Holding Tanks
Portable chemical toilets are fully self contained and do not need to be connected to external services.
Portable waste holding tanks are emptied by Rent A Bathroom at the end of your hire.
Arrangements can be made to service portable toilets and waste holding tanks during longer term hires, large and busy functions.
---
Portable Waste Holding Tanks
Ideal when sewerage or septic services are too far away, on rural and remote sites, for environmentally sensitive sites:
Aesthetic appealing, Black 1000 litre portable waste tanks
Can be daisy chained, connecting more than one together for larger events or longer duration hires
Portable holding tanks will require a pump out service from Rent A Bathroom or your local operator
---
Transport and Delivery
Rent A Bathroom deliver our mobile bathrooms, portable bathrooms, portable ensuites, portable toilets and portable showers.
If needed, Rent A Bathroom will lower and position the units using our crane.
However, you can lower and position Rent A Bathroom units from our truck with your forklift (insurance requirements / contracts need to be signed accepting responsibility for any damage).
Rent A Bathroom delivery drivers have the final decision on positioning to ensure proper operation and safety.
Rent A Bathroom will pick up and deliver the units unless previous arrangements have been made (delivery charges apply).
Contact Rent A Bathroom
0409 783 399
info@rentabathroom.com.au
Rent A Bathroom preferred payment options: Direct Deposit and Credit Card (2% surcharge on all credit cards)
ENQUIRE ONLINE
Have an enquiry about one of our services? Send us your enquiries with our easy to use online form and we will get back in touch with you regarding your requirements.
Our Clients
"Very helpful and easy to deal with, it arrived on time. The porta-loo was spotless, and they took it away when they said they would. No fuss at all. I couldn't ask for much more than that. Thanks guys."
Ian Whitehead